The Bureau des Voyages de la Jeunesse, (BVJ) is a non-profit-making association managed according to the French law of July 1st, 1901, and is located in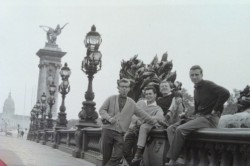 Paris's 1st arrondissement.
The BVJ was founded by Jean Barraud back in 1948:
To organize cultural trips and exchanges across the world, for the benefit of young people likely to use this experience to further their intellectual, professional or civic education.
To encourage the flourishing of friendly relationships between peoples, and to help them get to know one another while discovering another country.
 And thus to work towards building international understanding among young people from all over the world.
Many people (young and not so young) helped create the BVJ, making a reality of the Bureau des Voyages de la Jeunesse : Robert, Jean, Emile, Pierre, Daniel, Maxime, Gilberte and the others, not forgetting Madeleine, Aïcha, Michel, Yves, Gil, Anne, Cécile, Philippe – and many others besides!
The BVJ's objectives are:
To encourage young people from all over the world to meet one another
To invite young people to supplement their studies, continuing their education while being immersed in a different culture that has a different approach to human beings, to things and to the world
To offer places for broadening horizons, teaching and training, with accommodation, in central, historical Paris, constantly raising the level of discussion, exchanges and debate, in the very heart of Paris!
Since 1948, the BVJ has welcomed people to the loveliest Paris neighbourhoods – places that are steeped in history, such as the cultural destinations of Paris's 1st and 5th arrondissements, for example.
Today, having extended its reach to the five continents, and with several million members – including young people, schoolchildren, students, secondary school teachers, youth workers, primary school teachers, trainers and lecturers as well as thousands of expeditions between sea and sky, BVJ has Youth Hostels at the heart of historical and cultural Paris:
BVJ Louvre is a top Paris youth hostel. Located in the city's 1st arrondissement, between the Louvre Museum, the Palais Royal and the Jardin des Halles, it has been open 24 hours, every single day since 1948!
BVJ Quartier Latin is a place for broadening horizons, teaching and training, with accommodation, fully-equipped classrooms, video projectors, WiFi connectivity, a desk in every room, and a 24 hour library with staff speaking several languages including French, Japanese, Korean, English, American, Spanish, and Chinese – for tailor-made educational programmes!
So if you'd like:
To visit Paris without breaking the bank
Your trips to be informative
To dive in to the heart of historical and cultural Paris
Your trip to be original, or romantic, in the City of Light
Join BVJ – for a night in Paris, a school trip, an educational, professional or university trip, a broadening horizons session, teaching, or training, a field trip, or as an independent candidate, to cultivate a taste for travel – and to meet others. Or for cross- and multi-disciplinary teaching, within easy walking distance of the most popular tourist destinations: Paris 1 and Paris 5 (the Louvre Museum, the Latin Quarter, the Opera, etc.).