New Year's Eve in Paris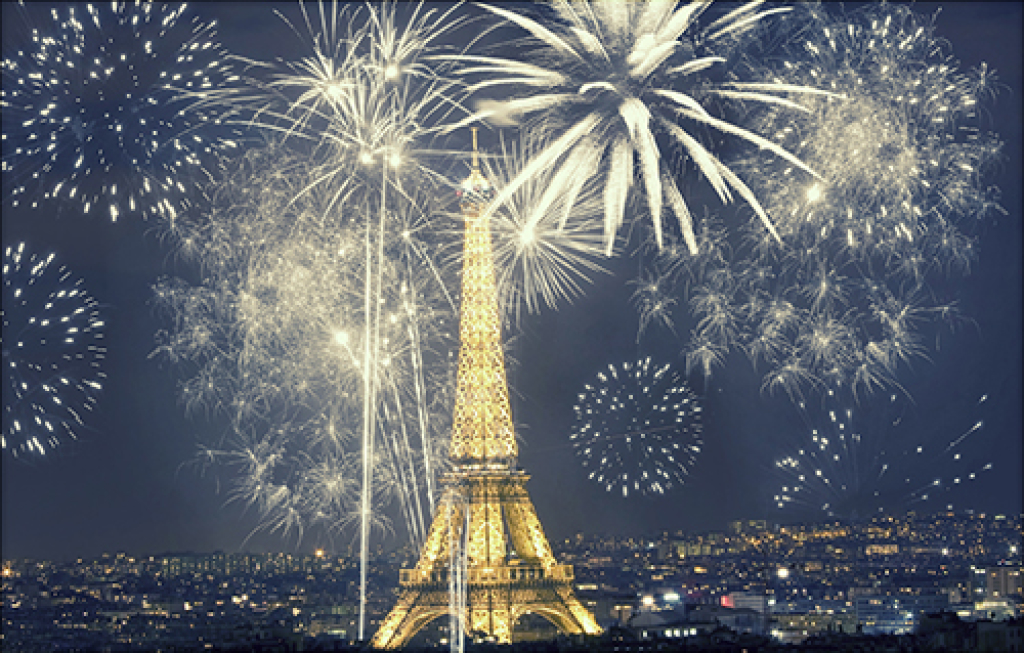 [12/28/2016]
If you're fortunate enough to be in Paris, France, to celebrate the end of the year, the city of light offers a lot of ways to say Bonne année! Without a doubt, Paris is one of the most beautiful and interesting places to celebrate New Year's Eve. Whether your preferred style is clubbing the night away, a good meal with a view, or a simple glass of champagne shared with a small group of friends or loved ones, the BVJ Paris Youth Hostels, the first, most central and most Parisian of youth hostels, has some insights for you.
How do we Celebrate New Year's Eve in the French Capital:
In Paris, as in the rest of France, the New Year, or "St Sylvestre", begins on January 1st and ends February 1st. French people start wishing each other Bonne Année! (Happy New Year!) and exchanging small kisses on each cheek at the stroke of midnight on January 1st. So don't be surprised if you hear wishes for the New Year in PARIS throughout the whole month of January, and feel free to return them.
The drinks of choice on New Year's Eve in Paris are Champagne or sparkling white wine. Hot wine and cider are other popular choices. Of course, if you're celebrating the New Year at a restaurant or party, plenty of non-alcoholic drinks are available at most spots.
A common treat in Paris for the New Year are chocolates or other confections that pop like small firecrackers when you open the wrapping.
You can buy these in any Paris supermarket or confectioner's shop close to the BVJ Paris Hostels.
Contrary to popular belief, there is no "rule" on how to dress for a major event like New Year's Eve in Paris, and while the city counts a greater-than-average number of impeccably dressed fashionistas, plenty of others hit the town in jeans and warm sweaters to enjoy the New Year. Nevertheless, there are dress codes for individual restaurants, New Year's parties, or other events, so pay attention.
Where are the hot spots to Celebrate New Year's Eve in Paris?
If you like to countdown to the New Year among a lot of people, there are several places around the city of Paris where thousands of Parisians and tourists traditionally gather to open the champagne and shout "Bonne Année!"
The Champs-Elysées Grand Parade: Center of the Parties in PARIS

The Champs-Elysées Avenue, a few steps from the BVJ – Champs Elysées-Monceau HOSTEL in PARIS is the right place to go if you want to be at the center of the party.
Starting at around 9 p.m. on New Year's Eve in PARIS, people start to flock to the most famous avenue of Paris, France. From many places on the Champs-Elysées, you can get a good view of the Eiffel Tower, which generally displays a sparkling dance of light at the stroke of midnight. There are also plenty of spots to go dancing or dining before or after midnight in the area.
In 2016/2017, the Triumph Arch at the head of the city's greatest avenue will be the site of a special event, with pyrotechnical spectacles and a projection show about the evolution of Paris until 2024. On January 1st, 2017, meanwhile, a festive New Year's parade will proceed down the Champs-Elysées, starting at around 10:00 am.
New Year's Eve in Montmartre: A calmer celebration
The Sacre Coeur square in Montmartre, close to the BVJ Opéra-Montmartre Youth Hostel in PARIS, is a calmer place to celebrate New Year. If the skies are relatively clear, the place offers spectacular views of the entire city of Paris. While still crowded, the Montmartre street party is more laid-back than its Champs-Elysées counterpart and there are plenty of bars, cabarets, and clubs to explore in Montmartre and nearby Pigalle. If you're looking for a less conventional way to celebrate New Year's in Paris, Montmartre can be a good option.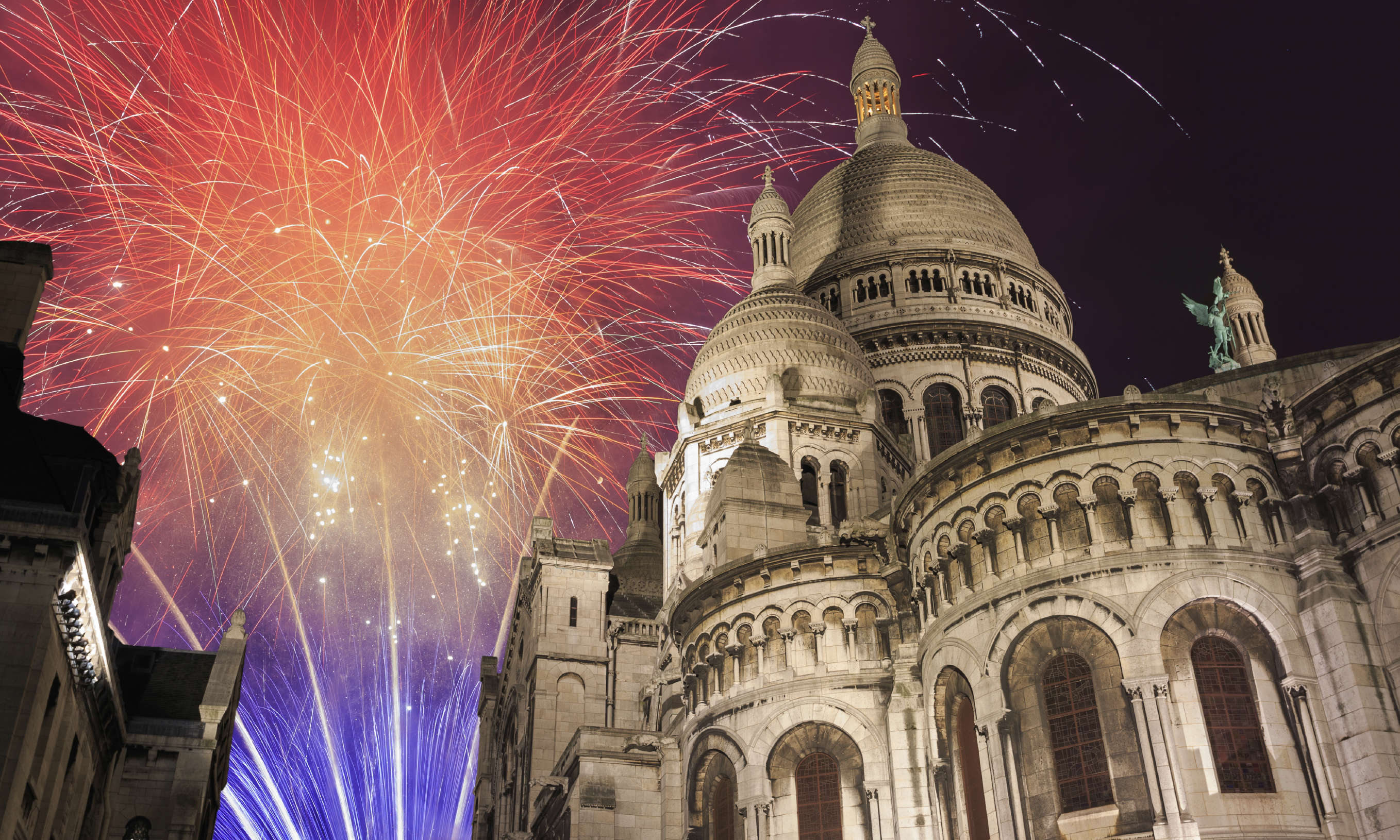 New Year's Dining and Shows in PARIS

Paris being one of the culinary capitals of the world, you'd only expect to find plenty of restaurants here offering special New Year's Eve menus.
Along with dinner, why not feast your eyes on a traditional cabaret show? New Year's is a perfect time to indulge in all those Parisian clichés that everyone should experience at some point.
Restaurants in PARIS and Brasseries
The Flo restaurant group is famous for its traditional French brasserie fare. Special New Year's Eve dining is offered at their following restaurants, all of them not far from the BVJ Paris Youth Hostels: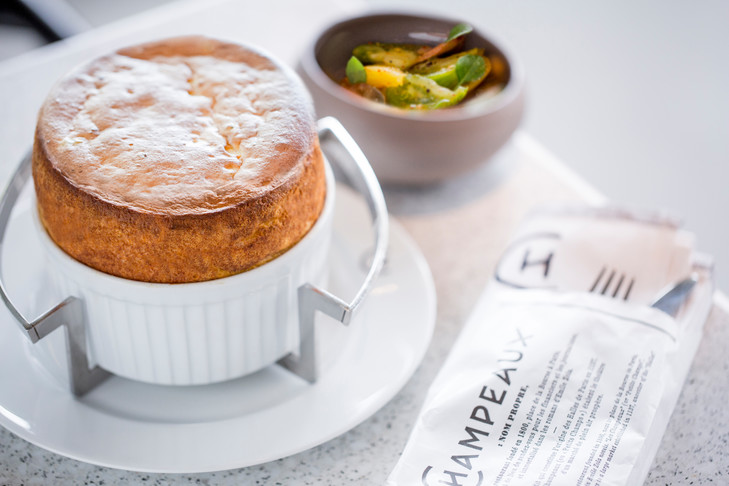 Dinner Cruises in Paris

Looking for a less expensive option than the traditional cabaret show or thematic dinner? Opt for a simple Seine river boat tour to soak in the lights and festive ambiance of Paris.
Bateaux Parisiens

offers a New Year's dinner cruise that includes musical entertainment, a bottle of Pommery champagne, and other special treats. Make sure to reserve at least 24 hours in advance.
Yachts de Paris also offers gourmet New Year's Eve dinner cruises on the Seine river. The dinner cruise lasts two hours, includes an aperitif, dessert, and coffee, and offers gorgeous views of some of the city's most remarkable sights (Notre Dame Cathedral, Tuileries Gardens, Concorde)

Dancing and Clubbing in Paris :
If your primary New Year's goal is to dance the night away, here are some of the clubs in Paris you can go for the occasion:

A 24/7 bar in PARIS to celebrate the 1st january in Paris
Important: Where will you be staying you first night of the year in Paris?
If you're coming to Paris, France, for New Year's Eve, don't hesitate, book a bed in one of the BVJ Paris Youth Hostel : the first, best located and more Parisian of all Youth Hostels in Paris ! Beds from 19€, free breakfast and locations in the very heart of Paris, for a solo trip in PARIS, or a group trip in Paris !
« Go back to news