Celebrate New Year's Eve in Paris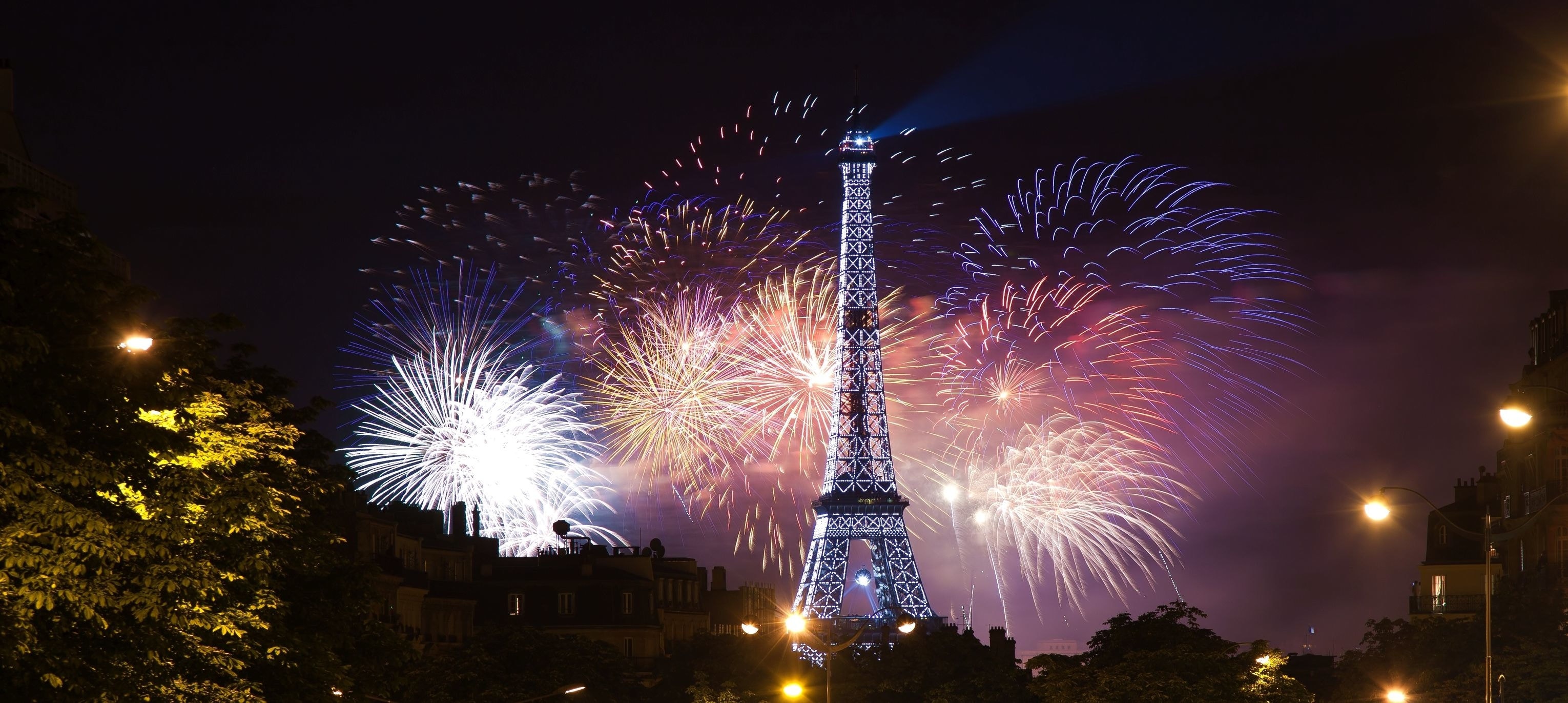 [12/21/2017]
New Year, Parisian-Style, Traditions, Parade, cheap Restaurant in Paris & more : If you're lucky enough to be in Paris to celebrate New Year, the city of light offers plenty of ways to say Bonne année! (Happy New Year!) Paris is one of the most beautiful and exciting places to celebrate New Year's Eve in Paris, whether your favorite style is dancing the night away in a nightclub, a good meal with a stunning view, or simply a glass of champagne shared with a small group of friends or loved ones.
Therefore, the team of the BVJ Paris Youth Hostels, the first, best located and most Parisian of all youth hostels in Paris, prepared specially for you a guide where you can find the best parties in Paris to go celebrate New Year ! Like every year, we preselect for you the not to be missed New Year's Eve Parties in Paris, in the best venues the capital has to offer. So, are you coming to Paris for the holidays? Then learn about the best New Year's Eve ideas for ringing in the New Year in Paris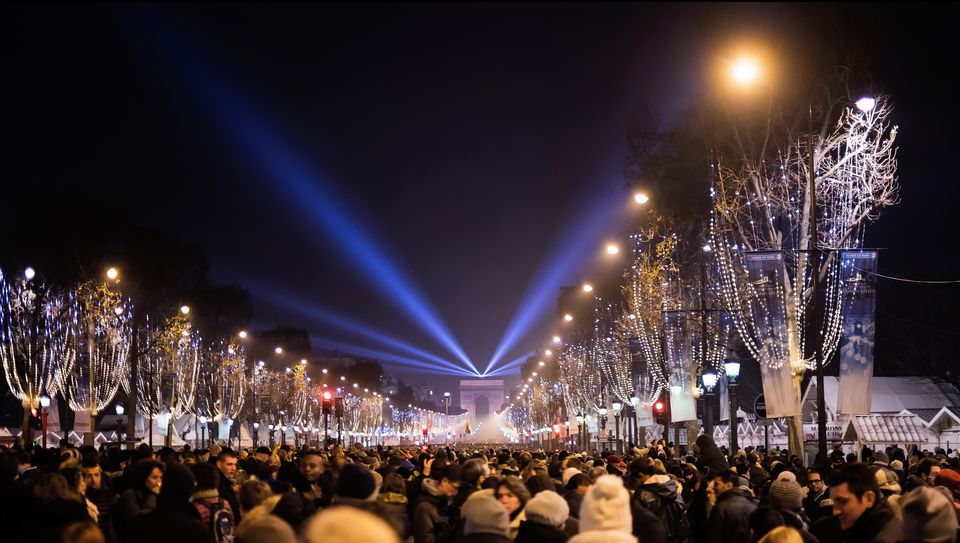 New Year's Traditions in the French Capital:
In Paris, as in the rest of France, the New Year, or "St. Sylvestre," begins on January 1st and ends February 1st. French people start wishing each other "Bonne Année!" and exchanging bises (small kisses on each other's cheeks) at the stroke of midnight on January 1st, and mailboxes are then flooded with greeting cards and gifts throughout the whole month. So don't be surprised if you hear good wishes for the New Year throughout the whole month of January, and feel free to return them. Learning the French expression above and using it is likely to get an especially warm response!
Champagne or sparkling white wine?  The two are not to be confused if you wish to avoid lengthy lectures; both are drinks of choice on New Year's Eve in Paris. Whether you opt for the "real" champagne (from the region of the same name) or a high-quality sparkling white such as a Crémant de Loire or Crémant de Bourgogne (the latter hailing from the prestigious wine region of Burgundy), a festive atmosphere is nearly guaranteed. Vin chaud (hot wine) and alcoholic cider from Brittany are other popular choices. Of course, if you're celebrating the New Year in Paris at a restaurant or party, plenty of non-alcoholic drinks are available at most spots, from juice to soda and sparkling non-alcoholic cider.
A common Paris treat for the New Year are papillottes: these are chocolates or other confections that pop like small firecrackers when you tear off the wrapping. You can buy them in any Paris supermarket or confectioner's shop.
Contrary to popular belief, there is no "rule" on how to dress for a major event like New Year's Eve in Paris, and while the city counts a greater-than-average number of impeccably dressed fashionistas, plenty of others hit the town in jeans and warm sweaters to enjoy the New Year. Do make sure you follow any dress codes for individual restaurants, New Year's parties, or other events, though—it's not unusual for higher-end venues to apply stringent dress codes against sneakers, jeans, or t-shirts at the door.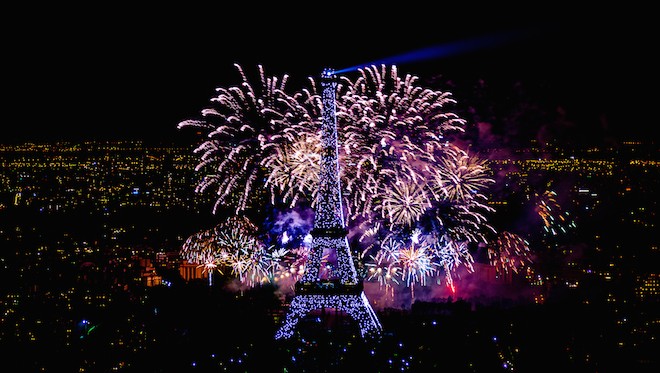 Are there "official" fireworks for the New Year in Paris?
Official Firework shows have been all but absent in Paris on the 31st in recent years, so you unfortunately shouldn't get your hopes up for seeing any on the skyline for New Year's Eve. You'll probably see a few small ones launched by private groups, however.
Best Places to Celebrate the "Nouvel An" in Paris
When it comes to celebrate New Year's Eve in Paris, we're usually torn between staying indoors with friends and a bottle of champagne and… getting wasted in one of Fitzgerald's favorite bars or ordering drinks by a pirate ship! Here are some of the tips prepared by the team of the BVJ Paris Youth Hostels, the first, best located and most Parisian of all youth hostels in Paris!
Major Spots to Celebrate:
If you like to countdown to the New Year in the warmth—literal and figurative—of a crowd, there are several places around the city where thousands of residents and visitors traditionally gather to uncork the champagne and shout "Bonne Année!"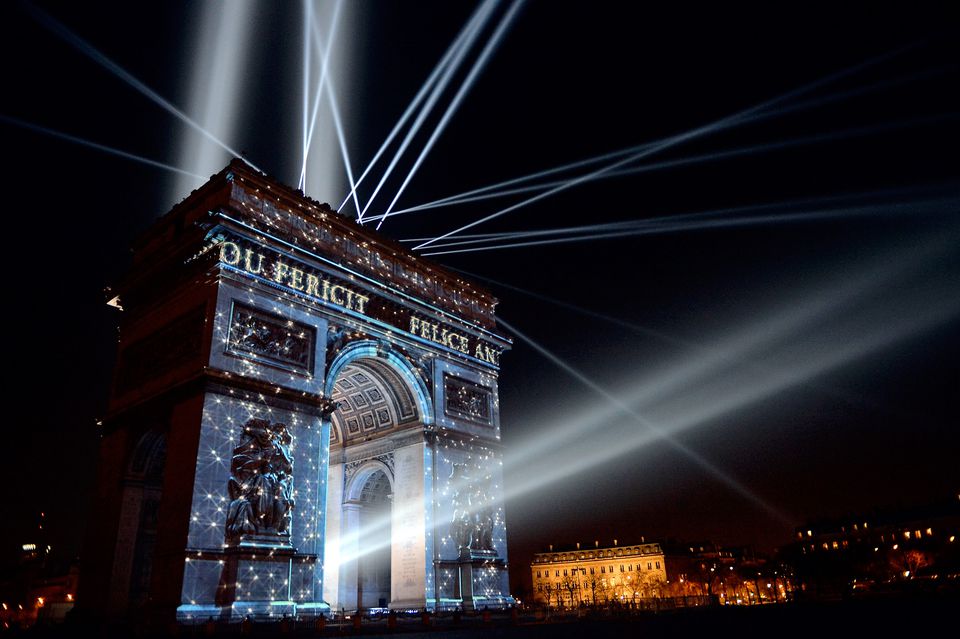 The Champs-Elysées Grand Parade: Center of the Party
The Champs-Elysées in Paris is the place to go if you want to be at the center of the party. Starting at around 9 p.m. on New Year's Eve, people start to flock to the famed avenue. From many places on the Champs-Elysées, you can get a good view of the Eiffel Tower, which generally displays a sparkling dance of light at the stroke of midnight. There are also plenty of spots to go dancing or dining before or after midnight in the area. And what's best: it's only a few minutes away from the BVJ Champs-Elysées youth hostel!
Although the atmosphere here is usually bon enfant (literally "good child," or harmless), celebrating on the Champs-Elysées calls for you to be especially aware of your personal belongings, as pickpocketing is common in large crowds. This also won't be the partying spot of choice for you if you're claustrophobic or crowd-shy. You should also be aware that, while many people flout the rule by bringing along bottles and/or plastic flutes, alcoholic beverages may not be consumed here or in other major areas around the city where people are congregating for the New Year. You can be fined if caught doing so.
In 2017/2018, the Arc de Triomphe at the head of the city's grandest of avenues will be the site of a special event starting from 11:00 pm (to be announced later in the year). Some are anticipating fireworks this year, but there are no guarantees. On January 1st, 2018, meanwhile, a festive New Year's parade will proceed down the Champs-Elysées, starting at around 1:00 pm. The other good news is that the Champs will be closed off to all automobiles from New Year's Eve to 6:00 pm on New Year's Day.
Sacre Coeur Festivities: Stunning Panoramic Views Of the City 
The Sacré-Coeur plaza in Montmartre is another favorite, very closed to BVJ OPERA-MONTMARTRE / HOSTEL in Paris, and significantly calmer, place to bid farewell to 2017. Assuming the skies are relatively clear, the knolltop vantage affords spectacular views of the entire Paris skyline. While still crowded, the Montmartre street party is more laid-back than its Champs-Elysées counterpart, and there are plenty of bars, cabarets, and clubs to explore in Montmartre and nearby Pigalle. If you're looking for a less conventional way to celebrate New Year's in Paris, partying in Montmartre may be the ticket. And it's just a few blocks from the BVJ Opéra Montmartre youth hostel!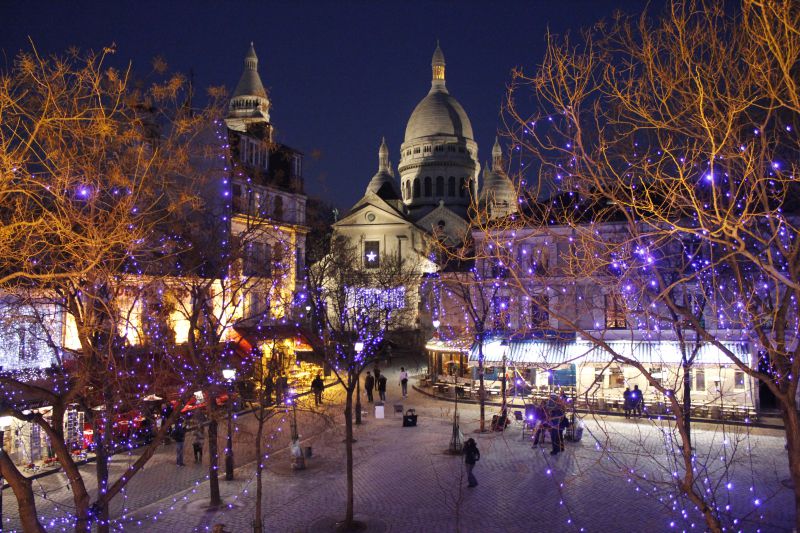 New Year's Dining and Shows
Paris being one of the gastronomic capitals of the world, you'd only expect to find plenty of restaurants here offering special New Year's Eve menus, some at reasonable prices, and others a bit more expensive.
Along with dinner, why not feast your eyes on a traditional cabaret show? New Year's is a perfect time to indulge in all those Parisian clichés that everyone should experience at least once in a lifetime.
The Flo restaurant group is famous for its traditional French brasserie fare. Special New Year's Eve dining is offered at the following of their restaurants:
Looking for a cheaper option than the traditional cabaret show or thematic dinner? Catch a casual dinner elsewhere and opt for a simple Seine river boat tour to soak in the lights and festive ambiance.
Bateaux Parisiens offers a New Year's dinner cruise dinner cruise that includes musical entertainment, a bottle of Pommery champagne, and other special treats. Make sure to reserve at least 24 hours in advance.
Yachts de Paris also offers gourmet New Year's Eve dinner cruises on the Seine river. The dinner cruise lasts two hours, includes an aperitif, dessert, and coffee, and offers gorgeous views of some of the city's most remarkable sights (Notre Dame Cathedral, Tuileries Gardens, Concorde).
Reservations are required: +33 (0)144 541 470
Therefore, if you're coming to spend New Year's Eve in Paris, don't hesitate: book a bed in the BVJ Paris Youth Hostel: a budget accommodation, with a 24h reception and a free French breakfast at the heart of Paris! Either in a solo trip, with a group of friends or with your family, the BVJ Paris Youth Hostel welcomes you to celebrate New Year's Eve in Paris in the first, best located and most Parisian of all youth hostels in Paris!
« Go back to news